Starting point for the "Inow Asia" project, about sustainable water management in Southeast Asia
Around thirty people from European higher education institutions and universities in Cambodia, Laos and Vietnam are taking part in the virtual kick-off meeting of the project on 25 and 26 February.
The cooperation project Inow Asia: Development of Innovative multilevel formation programs for the new water leading professionals in Southeast Asia(2021-2024), framed in the Erasmus+ programme, holds on 25 and 26 February its virtual kick-off meeting.
The Solidarity Foundation of the University of Barcelona (UB) is one of the partner entities of this initiative, coordinated by the University of Girona (UdG), whose main objective is to collaborate with universities in Cambodia (Institute of Technology of Cambodia and University of Battambang), Laos (National University of Laos and Souphanouvong University) and Vietnam (Hanoy University of Science – Vietnam National University Hanoy and Can Tho University) to contribute to postgraduate training in the field of integrated and innovative water resources management and sustainable development.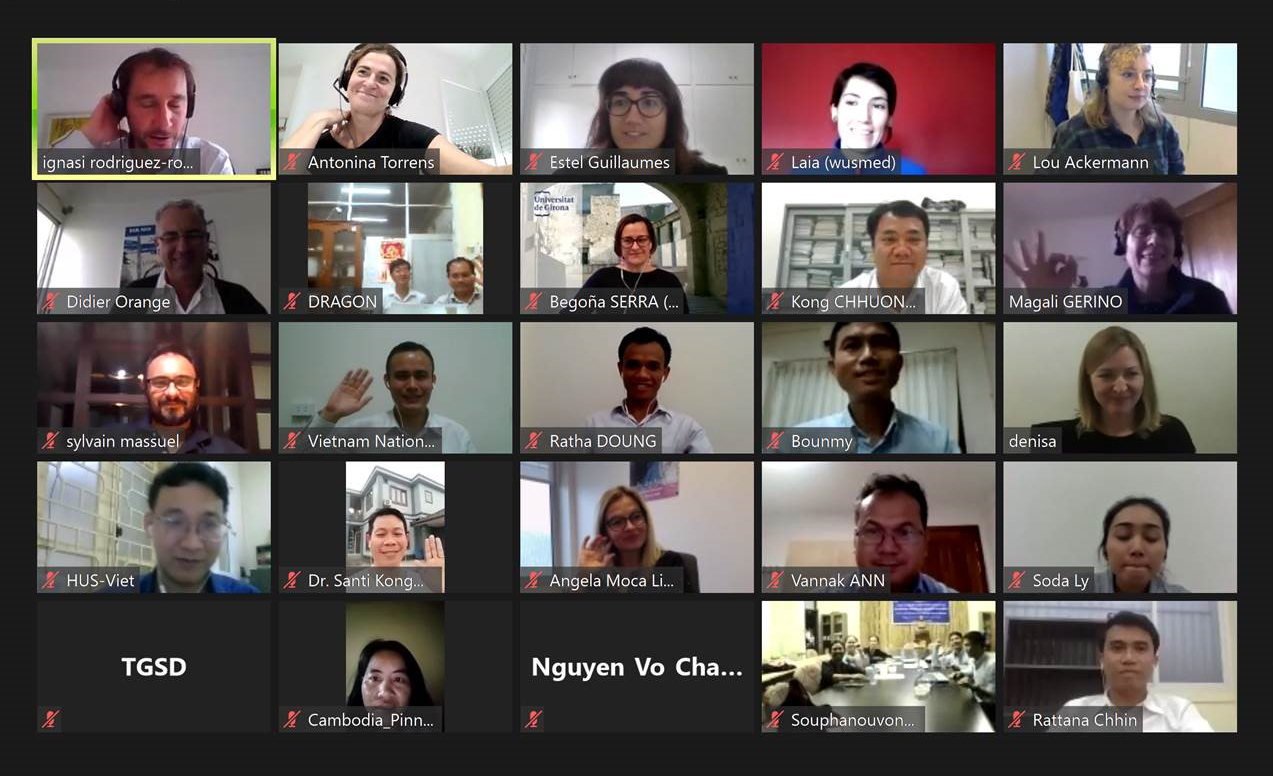 Apart from the conventional problems related to safe drinking water supply and sanitation, countries on the Southeast shore of Asia face severe challenges that affect population health and economic activities through drastic water supply scarcity and lack of sanitation, severe droughts and floods, deforestation and threats to biodiversity.
In this context, in the framework of Inow Asia, European Higher Education Institutions – including the UdG, the UB Solidarity Foundation, the University Paul Sabatier Tolouse III, the IRD (Institut de Recherche pour le Developpement) and the WUSMED (World University Service Mediterranean) – will share their knowledge and experience in the implementation of innovative master programmes in water resources management.
The main idea is to jointly design training modules on water resources to complement the masters and PhD programs in related fields already existing in Southeast Asia, as well as to co-design and implement water-oriented living labs.
On January 28-29, 2023, Mrs. Soulichan LAMXAY from the Faculty of Environmental Sciences at NUOL and 15 student volunteers from Social Environmental Education and Development (SEED) at FES at NUOL had the opportunity to go on a study tour about the management of water resources in the Nam Pok River at Vang Vieng District,…
Souphanouvong University (SU) is actively engaged in developing local influence through the use of INOWASIA expertise and the establishment of a living laboratory to enhance sustainable wastewater management practices in Luang Phrabang City, Lao PDR. Mr. Anousith Vannaphon, a fellow faculty member from the Faculty of Agriculture and Forestry Resources at SU, participated actively in…
INOWASIA APC & Stakeholders Workshop / presential + online Monday -Tuesday, 13th – 14th November 2023 Monday, 13th November (APC Workshop Day 1/2) Venue: Institute of Technology of Cambodia (ITC) Phnom Penh (Room 113A) Zoom Meeting: ID: 968 391 2005, Passcode: 400200 Purpose: Official reception and APC's WoLL workshops Topic: What strategies can ensure the effective…