At Laboratory of Water Environment, ITC, Ms. Huong Luong from Hanoi University of Science, Vietnam National University is doing internship under INOWASIA project at ITC. In here, Dr. Saret Bun has presented a quick introduction about project microplastics and macroplastics assessment in different environments in Cambodia to intern student – Ms. Huong and other members. Target of the presentation is providing knowledge and understanding about the purpose, contents, study methods as well as status of this research.
Plastic is decomposed into microplastics, nanoplastics, polluting water sources and ecosystems. According to World Bank report about macro-plastic in Cambodia in 2019, rivers in Phnom Penh are polluted by huge quantities of waste, mostly large polystyrene ice boxes, styrofoam food containers, water bottles, coffee cups, straws but also nappies and other textile materials. Moreover, several studies have shown that microplastic and nanoplastics were presented in human bloods and lungs. Due to their small size, they are easily accumulated in the food chain, causing harmful effects on organisms and human health. Microplastics have become a serious pollution problem. With the first study on microplastics carried out in Cambodia, this research will be a primary study to assess the current status occurrence of microplastic pollution, consequently promote future research programs.
After the presentation, Ms. Huong has joint with other students for familiar with laboratory rules and experiment procedures and then started working with microplastics samples from the last field trip in April, 2023. She has learnt how to classify macroplastics and microplastic, removing organic matter in water sample and using saturated salt solution for microplastic flotation. During the experiment, the analysis process has been developed and finalized by all members. After treating fresh water samples from Kampong Cham province and marine water samples from Kampot and Kep beach, the team continued to discuss together about preparing for the next sampling trip in the Mekong river in Phnom Penh and other Marin water in Preah Sihanouk Province.
Participating in this project, Ms. Huong hopes to contribute to the existing studies on microplastic in Southeast Asia. Besides, she also want to develop knowledge and experience in water quality testing and how to be able to implement what she has learned.
Web link: https://inowasia.com/the-first-inowasia-internship-students-in-post-from-mid-april/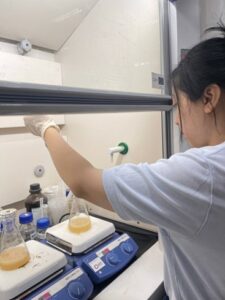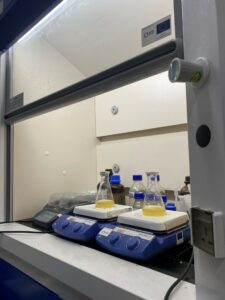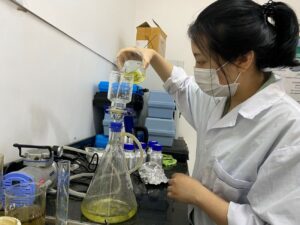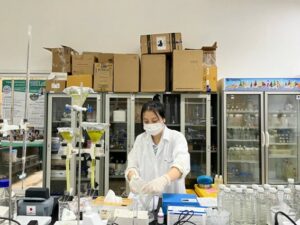 INOWASIA is an Erasmus + Capacity Building Higher Education project that promotes a joint action of 11 organisations across 5 countries (Cambodia, Laos, Vietnam, France and Spain) to train a new generation of water professionals in Southeast Asia. More info