Currently, the increase in population, industry and socio-economic development, water resources are dwindling, the availability and supply of clean water is a global concern. Physico-chemical characteristics synthesis MnFe2O4 MNPs using advanced materials possess immense prospect in water and wastewater treatment. During the internship within Water-oriented Living Lab of VNU-HUS for 3 months where I will use magnetic nanocomposites based on MnFe2O4/activated carbon and its application for the removal of antibiotics in water.
During 3 months I will focus on:
Testing the impact of different parameters on MnFe2O4/activated carbon treatment efficiency such as treatment time, pH of the solution, dosage of the nanomaterials, and check the stability of the mterial.
Research on mechanism and kinetics of the degradation processes.
Experimental:
I design a synthesis procedure of MnFe2O4 MNPs by using a simple hydrothermal method developed in our laboratory. The reagents and instrument will be used as below:
FeCl3 analytical grade
MnCl2 analytical grade
HOCH2-CH2OH grade
CH3COONa grade
Commercial activated carbon.
Refluxed at controlled temperature of 210 °C for 3 hours in an oven.
XRD, SEM-EDX, BET, FT-IR, UV-Vis DRS…
Future plans:
Continue to study the impact of concentration of pollutants, loading of the nanomaterials on antibiotic removal efficiency.
Batch experiments were conducted to study the degradation of tetracycline (TC) under different reaction scenarios.
The solution pH on the tetracycline (TC),
The tetracycline (TC) concentration ranging the tetracycline (TC) solution was prepared from air-nanobubble contained DI water, adsorb certain quantity of the tetracycline (TC). To measure the tetracycline (TC) concentration in the solution as a function of time.
The remained tetracycline (TC) concentration will be quantified. The tetracycline (TC) photodegradation efficiency was calculated from initial concentration and the concentration of remained the tetracycline (TC) in the solution.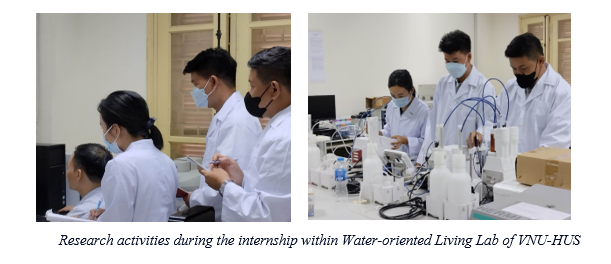 For more info, click here.
INOWASIA is an Erasmus + Capacity Building Higher Education project that promotes a joint action of 11 organisations across 5 countries (Cambodia, Laos, Vietnam, France and Spain) to train a new generation of water professionals in Southeast Asia. More info