Impact of the Covid-19 Lockdown Time on Surface Water Quality at Can Tho City, Vietnam
Currently, the world is facing an exceptional disaster of the Covid-19 pandemic. Since the outbreak of COVID-19 during the last quarter of 2019, more than 173 million people were affected globally and around 3.5 million were deaths by up to the last week of May 2021 (WHO, 2021). This stormy of COVID-19 pandemic brings crisis for public health. Most of the urban life has been limited due to strict lockdown. The GDP of most of the countries have been fallen due to long term shutdown of their economy.
As a central capital in the Mekong delta of Vietnam, Can Tho city is suffering from the uncontrolled ruin of the Covid-19 pandemic. For the fourth Covid-19 wave that hit Vietnam in late April 2021, Can Tho has recorded 5,402 community cases in total of 8,867 infection cases (Cuu Long, 2021). This number has crossed over a huge unpredictable position in its initial stage, if there was no restriction rules from government. Indeed, Can Tho had applied various lockdown status or social distancing among people since April 2020 (Ministry of Health, 2020). The economic movement of the city was so bad, especially in the lockdown time. However, it is explorer of improvement from surface water quality in the city's canal network due to shutdown of industries, transport and business activities. It is a great news as the U.S. visual media company Getty Images has listed Can Tho among 15 world's most beautiful canal cities (VietNam Insider, 2019).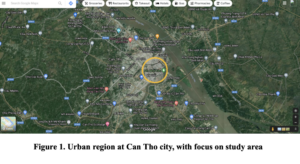 In recent years, due to rapid urbanization, industrialization, commercial and service activities, surface water bodies in Can Tho city received huge quantity of untreated wastewater. According to report of Department of Construction (2020), only 25% of domestic wastewater is collected and treated, the left 75% freely discharge into open water bodies cause of environment issues to surface water sewage treatment capacity in Can Tho city (Fig. 2). As a result, the canal water quality is declined steadily through toxic materials and excess nutrients. In the Covid-19 lockdown period, untreated wastewater discharge into canal network is reduce due to limited anthropogenic activities. We took this opportunity to monitor surface water quality from canal network which identify the differences of pollution sources, pollution level and types of anthropogenic stress between normal and lockdown time.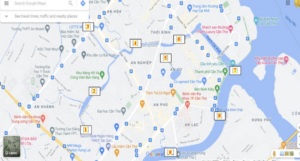 There are 09 water samples were collected from Cai Khe canal (06 samples) and Can Tho river (03 samples). Water samples were first taken on Oct 2021 (during lockdown period), then samples were collected on Nov 2021 (after unlock time) to assess the changes on water quality due to temporarily closing of anthropogenic actions (Fig. 3).
Samples were obtained from 0.3 - 0.5 m below the surface water. Pre-cleaned poly-ethylene bottles (1000 mL) were used to collect sample from each sampling site for physico-chemical parameters analysis. For biological parameter (E. Coli, Coliform), pre-sterilized glass bottles (100 mL) were use for samples collection. All samples were stored in cool-box and carried properly for further analysis in the laboratories. Sample containers were labelled as M1, M2, M3, etc. for properly identification (Fig. 4).

Total 18 water samples were collected and analysed within two sampling times. To evaluate the water quality, parameters of temperature, pH, TDS, TOC, BOD5, COD, TP, TKN, N-NO2-, N-NO3-, N-NH4+, P-PO43-, E.Coli and Coliform have been considered. In which, temperature and pH were measured at the sampling sites using Hanna HI9811-5 potable meters. Other physico-chemical parameters were analysis at the South Centre for Environment Monitoring (SCEM) while the biological paramaters sent to the Environmental Quality Laboratory - College of Environment and Natural Resources (CENRES) - Can Tho University. All parameters were analysed by standard procedure which was prescribed by APHA, AWWA and AEF (2012).
The water samples collection already process and sent to the laboratories for analysis. We do hope receive the results soon and will be announce the outcomes for public reference.
APHA, AWWA, AEF, 2012. Standard methods for the examination of water and wastewater 22nd edn. American Public Health Association, American Water Works Association, Water Environment Federation.
Cuu Long, 2021. Can Tho last Mekong locality to ease Covid restrictions. Link https:// e.vnexpress.net/news/news/can-tho-last-mekong-locality-to-ease-covid-restrictions-4361396.html.
Ministry of Health, 2020. 28 provinces/cities continue apply the Directive No. 16/CT-TTg. Link https://moh.gov.vn/hoat-dong-cua-lanh-dao-bo/-/asset_publisher/TW6 LTp1ZtwaN/content/28-tinh-thanh-pho-tiep-tuc-thuc-hien-chi-thi-16-ct-ttg.
VietNam Insider, 2019. Can Tho city in Southern Vietnam's Mekong Delta region listed in world's 15 most beautiful canal cities. Link https://vietnaminsider.vn/ can-tho-city-in-southern-vietnams-mekong-delta-region-listed-in-worlds-15-most-beautiful-canal-cities/.
WHO, 2021. Coronavirus disease (COVID-19): Situation report 197. Link https:// apps.who.int/iris/bitstream/handle/10665/333734/nCoVsitrep04Aug2020-eng.pdf?sequence=1&isAllowed=y.
On January 28-29, 2023, Mrs. Soulichan LAMXAY from the Faculty of Environmental Sciences at NUOL and 15 student volunteers from Social Environmental Education and Development (SEED) at FES at NUOL had the opportunity to go on a study tour about the management of water resources in the Nam Pok River at Vang Vieng District,…
Souphanouvong University (SU) is actively engaged in developing local influence through the use of INOWASIA expertise and the establishment of a living laboratory to enhance sustainable wastewater management practices in Luang Phrabang City, Lao PDR. Mr. Anousith Vannaphon, a fellow faculty member from the Faculty of Agriculture and Forestry Resources at SU, participated actively in…
INOWASIA APC & Stakeholders Workshop / presential + online Monday -Tuesday, 13th – 14th November 2023 Monday, 13th November (APC Workshop Day 1/2) Venue: Institute of Technology of Cambodia (ITC) Phnom Penh (Room 113A) Zoom Meeting: ID: 968 391 2005, Passcode: 400200 Purpose: Official reception and APC's WoLL workshops Topic: What strategies can ensure the effective…