Floating or constructed wetlands: nature-based water treatments being tested in cities in Southeast Asia
Representatives from Sri Lanka, Philippines and Vietnam, as well as from the UB Solidarity Foundation, have presented their experiences in the field.
Solidarity Foundation of the University of Barcelona (UB) is an associate partner of the project Integrated assessment of existing practices and development of pathways for the effective integration of nature-based water treatment in urban areas in Sri Lanka, the Philippines and Vietnam (2021-2023), led by RMIT University (Australia) and funded by the Asia-Pacific Network for Global Change Research, which this Thursday, 20th January 2022, has held its first quarterly meeting.
The main objective of the project is to enhance knowledge and capacities for integrating nature-based solutions (NBS) in water management and planning across cities in Asia. Specifically, the project compiles and analyses the experiences of existing pilot and demonstration projects in six cities in Southeast Asia (two in each Sri Lanka, Philippines and Vietnam) and, based on this analysis, it will develop and test a methodology and guide that can be used to support the establishment, maintenance and scaling of nature-based urban water treatment.
The project will be informed by experiences from Australia and Europe, some of which have been explained in today's meeting by the coordinator of the Program of nature-based solutions for a sustainable development of the UB Solidarity Foundation, Professor Antonina Torrens.
Following the project's mission (to compile and analyse experiences in six cities in Southeast Asia) representatives from Sri Lanka, Philippines and Vietnam have also presented existing pilot and demonstration projects in this area.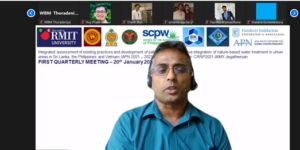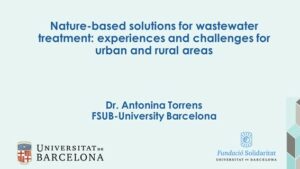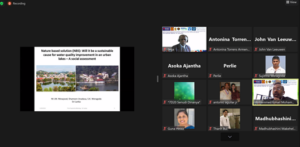 Sri Lanka
The Sri Lanka group has talked about the village tanks cascade system, sewerage treatment and floating wetlands in urban lakes. The Village Tanks Cascade System is a nature-based, man-made water management system, focused of connected small tanks, built according to the geophysical nature of the area, which allow that water received from monsoons is stored in soil and reused several times before draining into the sea, facilitating the flood and drought mitigation process in the lower parts of the ecosystem. For sewerage treatment, the National Water Supply & Drainage Board (NWSDB) has implemented NBS such as waste stabilization ponds systems, floating wetlands, constructed wetlands, and sludge treatment systems. And, to mitigate water quality degradation, in Kandy city lake there has been the experience of introducing a floating wetland, the sustainability of which is volatile if a dynamic equilibrium is not maintained among the related technical, social and economic aspects, including the society engagement and governance.
Philippines
The representatives of the Philippines have focused on discussing the current wastewater management in a country where only 5% of the population is connected to sewer network, while 77% of families have sanitary toilet facilities connected to septic tanks, often serviced by unregulated private companies, which results in as much as 33% of the total water pollution source. They have also talked about the success and challenges of adapting NBS (particularly, constructed wetlands) for wastewater treatment in the Philippines, and their relevance to climate change adaptation plans.
Vietnam
The Vietnam group has brought three presentations speaking about a country where only about 10% of the total sewage in large metropolitan areas is treated so far and the pollution of urban canal wastewater is raising concerns for human health and environmental protection. The first presentation has evaluated the effectiveness and impact of floating wetlands on domestic wastewater treatment. The second presentation has assessed the efficacy and effects of maturation ponds for canal wastewater treatment in Ho Chi Minh City. And the third presentation has discussed a general economic assessment framework for NBS projects in Vietnam.
UB Solidarity Foundation & sustainable water management
The UB Solidarity Foundation has a long history of promoting NBS for a sustainable development in different countries around the world.
Between 2010 and 2013, together with the National University of Vietnam, the UB Solidarity Foundation set up a wastewater treatment plant in a seafood manufacturing industry in Ha Long Bay, which was the first infrastructure of its kind (Constructed Wetlands) in the Southeast Asia. Between 2016 and 2021, together with the Gaston Berger University and Món-3 foundation, it carried out projects based on the implementation of low-cost, environmentally sustainable technologies for the sustainable management of wastewater and sanitation services in Saint-Louis (Senegal), including a wastewater ecological treatment plant on the UGB campus. And, from 2021 to 2024, it is taking part in the Inow Asia project, aimed at developing innovative multilevel training programs for new leading water professionals in Southeast Asia.
On January 28-29, 2023, Mrs. Soulichan LAMXAY from the Faculty of Environmental Sciences at NUOL and 15 student volunteers from Social Environmental Education and Development (SEED) at FES at NUOL had the opportunity to go on a study tour about the management of water resources in the Nam Pok River at Vang Vieng District,…
Souphanouvong University (SU) is actively engaged in developing local influence through the use of INOWASIA expertise and the establishment of a living laboratory to enhance sustainable wastewater management practices in Luang Phrabang City, Lao PDR. Mr. Anousith Vannaphon, a fellow faculty member from the Faculty of Agriculture and Forestry Resources at SU, participated actively in…
INOWASIA APC & Stakeholders Workshop / presential + online Monday -Tuesday, 13th – 14th November 2023 Monday, 13th November (APC Workshop Day 1/2) Venue: Institute of Technology of Cambodia (ITC) Phnom Penh (Room 113A) Zoom Meeting: ID: 968 391 2005, Passcode: 400200 Purpose: Official reception and APC's WoLL workshops Topic: What strategies can ensure the effective…