COP26 - GROUNDWATER AS A TOOL FOR CLIMATE ADAPTATION AND RESILIENCE: A HIDDEN TREASURE
A hidden treasure: Groundwater as a tool for climate adaptation and resilience
The Conference of the Parties (COP26) to the United Nations Framework Convention on Climate Change (UNFCCC) held in Glasgow, Scotland from November 1 - 12, 2021. Taken this opportunity, a groundwater forum "A hidden treasure: Groundwater as a tool for climate adaptation and resilience" was hosted with the main aim of highlighting the key role of groundwater in climate adaptation, disaster risk reduction, and integrated resilient nature-based solutions.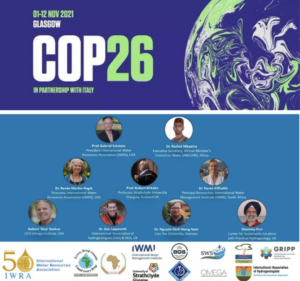 In alignment with UN Water's 2022 theme of "Groundwater: Making the Invisible Visible", this session will focus entirely on groundwater and critical role it plays in climate change mitigation, resilience and adaptation. Groundwater accounts for more than 57 percent of the available freshwater on the planet, yet, due to its invisibility below ground, many decision makers are not aware that agriculture, industry and residences depend heavily on groundwater or that groundwater risks depletion and degradation as a result of climate change impacts and over exploitation. Topics to be explored include how groundwater data supports decision-making for climate adaptation in sub-Saharan Africa and coastal Asia, how Managed Aquifer Recharge (MAR) uses groundwater as a tool for climate change resilience, how groundwater is a key component of nature-based solutions, and how offshore groundwater represents the last untapped reserve of freshwater on the planet.
Can Tho University' voice at COP26
On behalf of Can Tho University, Dr. Nguyen Dinh Giang Nam - Head of Department of Water Resources - Can Tho University gave the voice on groundwater current status in the Mekong delta of Vietnam at COP26. Dr. Giang Nam is a member of INOW-ASIA project (CTU team).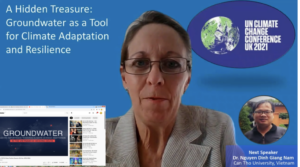 Broadly speaking, groundwater is already, and increasingly, relied on around the world for resilient livelihoods, cities, agriculture and ecosystems. It is the largest water source underpinning resilience across the globe. While this adaptation has taken place over decades - actually since time immemorial - relatively little attention has been accorded groundwater issues. As a result, relatively little has been achieved in terms of safeguarding the resource, with clear signs of depletion and degradation evident from around the world. This is having a negative impact on human and ecosystem resilience and economic development opportunities in regions and societies experiencing groundwater depletion and degradation. Groundwater holds significant opportunities for enhancing adaptation to the climate scenarios and risks we are experiencing, but it requires concrete active action now, integrated into broader climate adaptation and resilience planning at the country, local and international levels. That is what we doing right now.
On January 28-29, 2023, Mrs. Soulichan LAMXAY from the Faculty of Environmental Sciences at NUOL and 15 student volunteers from Social Environmental Education and Development (SEED) at FES at NUOL had the opportunity to go on a study tour about the management of water resources in the Nam Pok River at Vang Vieng District,…
Souphanouvong University (SU) is actively engaged in developing local influence through the use of INOWASIA expertise and the establishment of a living laboratory to enhance sustainable wastewater management practices in Luang Phrabang City, Lao PDR. Mr. Anousith Vannaphon, a fellow faculty member from the Faculty of Agriculture and Forestry Resources at SU, participated actively in…
INOWASIA APC & Stakeholders Workshop / presential + online Monday -Tuesday, 13th – 14th November 2023 Monday, 13th November (APC Workshop Day 1/2) Venue: Institute of Technology of Cambodia (ITC) Phnom Penh (Room 113A) Zoom Meeting: ID: 968 391 2005, Passcode: 400200 Purpose: Official reception and APC's WoLL workshops Topic: What strategies can ensure the effective…