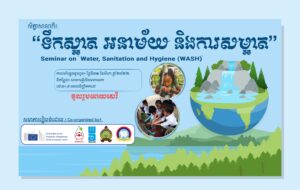 This week, Dr Gaetan Blandin and Dr Ignasi Rodriguez-Roda, professors at the University of Girona and members of the INOWASIA research team, are visiting our Cambodia partners as part of the training activities of the Erasmus+ project. The mission includes visits to the Institute of Technology of Cambodia (ITC) and the National University of Battambang (NUBB).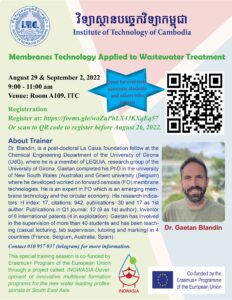 Various events have been scheduled, such as:
Training University professors on Problem-Based Learning teaching methodology,
Advanced courses on membranes and their application in the field of water for postgraduate students and professors,
Research seminars,
Meetings with different companies that are members of Inowasia's Academic Professional Committee,
and institutional meetings with the Government teams of both universities.
We are looking forward to this 1st encounter on the field and hope it will be very prosperous and successful.
INOWASIA is an Erasmus + Capacity Building Higher Education project that promotes a joint action of 11 organisations across 5 countries (Cambodia, Laos, Vietnam, France and Spain) to train a new generation of water professionals in Southeast Asia. More info
Follow us @INOWASIA (Facebook & LinkedIn) #INOWASIA (Twitter)