INOWASIA's Europe encounter – Activities and visits in France
May 9, 2022 – 1st day in Montpellier
For our first work day in France, Didier Orange from IRD welcomed us in Eco&Sols buildings. Laurent Cournac, Director of the UMR Eco&Sols, presented their research to improve the understanding of the role of soil organisms and plants and the interactions between them and their environment in biogeochemical cycles - mainly carbon and nutrients - within soils and agroecosystems. This Joint Research Unit hires 70 permanent staff from INRAE, IRD, Montpellier SupAgro and CIRAD.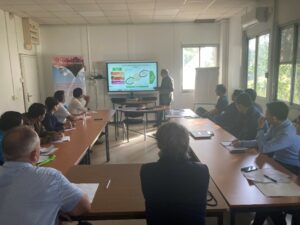 We then had a presentation of the Biofunctool kit© by Alain Brauman and Nancy Rakotondrazafy, a set of functional, field and low-tech indicators to assess the impact of land use on soil quality. Biofunctool® indicators provide information on the impact of land use or agricultural practices on soil functions, carried by soil biological assemblages. They did a demonstration next to their buildings, allowing us to understand the tool's process. Very interesting approach to assess the soil health!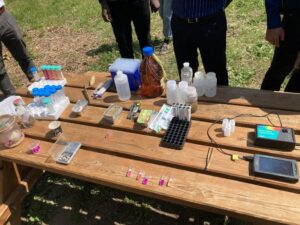 In the afternoon we moved to the Joint Research Unit G-EAU from IRD, INRAE and SuperAgro Montpellier, in the Agropolis campus. The afternoon was divided into two parts:
- A workshop on quality of biofilm presented by Vincent Moulia and clogging sensors presented by Julien Petit, both coordinated by Dr Nassim Ait Mouheb.
- A presentation of irrigated agronomic trials and a visit of the hydraulic hall presented by Dr. Claire Serra-Wittling.
At G-EAU, they are conducting research on water related to irrigation. They are doing some testing in the field, comparing the effects of tillage, chemicals and crops on the soil health. Our partners were able to visit all the facilities and it was a great opportunity to talk about water related to agriculture.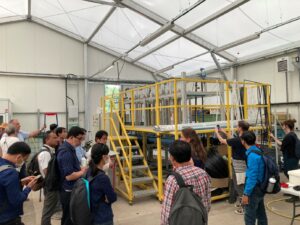 May 10, 2022 – From Montpellier to Toulouse
We took advantage of the bus ride from Montpellier to Toulouse to stop at two places during this second day in France. First, we visited a Living Lab in Murviels-lès-Montpellier, a wastewater treatment plant that uses nature-based solutions. This research project led by Dr Nassim Ait Mouheb (Associate researcher at INRAE, G-EAU) treats the wastewater of the 3,000 citizen-equivalents of the town. Planted filters are installed on a plot of land not far from the town center and allow the treatment of wastewater which is then released into the natural environment. The treated water is also used for research on tree plantations and vineyards through drip-irrigation at surface and sub-surface, two experiments we have visited.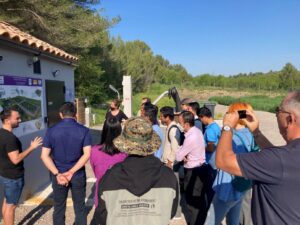 In the afternoon, we went to Neotera, a sustainable cellar that focuses on reusing treated wastewater for agriculture irrigation (viticulture). And we got the chance for some wine tasting.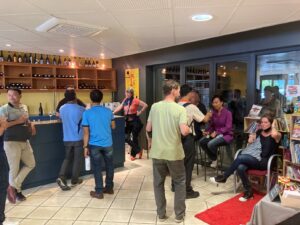 May 11, 2022 – 1st day in Toulouse
We began our trip in Toulouse by visiting the Université Toulouse III – Paul Sabatier campus. Our team started by a welcoming speech to introduce the research activities of the Joint Research Unit LEFE to UT3, CNRS, FSUB, UdG and asian partners. Then we visited the connected pond (E-connect project) presented by François Thiebolt, Jean-Louis Druilhe and Malik Iraïn from IRIT (Institute of Research in Computer Science of Toulouse) and LEFE Labs (Functional Ecology Laboratory). Then, Fabrice Gamboa, Deputy Vice-President for International Relations and Mobility at Université Paul Sabatier Toulouse III did a welcome speech for our partners. It was a nice opportunity to talk about students and staff mobility, for the future of INOWASIA project.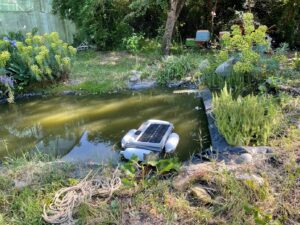 In the afternoon, Thélème Auzonne and Gaëlle Guitard from Toulouse Métropole presented the Grand Parc Garonne project and focused on the transformation of the Ramier Island. They are taking out all the concrete and pollution from the past exhibition halls and sports facilities and turning it into a new natural area. The Metropole is paying companies such as Valorhiz_FR (Mathieu Chalas) to work on the soil rehabilitation.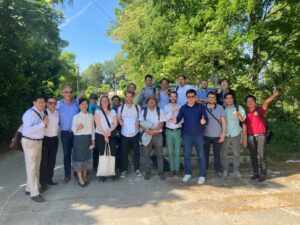 May 12, 2022 – 2nd day in Toulouse
The second day in Toulouse, we went back to UT3 campus to visit some laboratories. Our partners were able to discover the research conducted in Université Paul Sabatier Toulouse III, starting at the Laboratoire de Génie Chimique Toulouse / Chemical Engineering Research Center of Toulouse. After a presentation of the Laboratory by Dr Claire Albasi, we visited some manipulations on biology and advanced oxidation, membrane filtrations, electrochemical processes, both in Labège and Toulouse labs.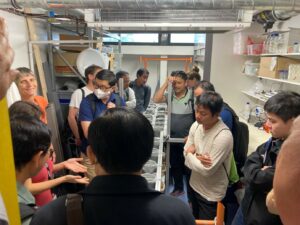 After a nice buffet, Marie-Pierre Gleizes presented the scientific interest group "neOcampus". The afternoon focused on water filters. Théo Chaibi did a demonstration on how plants and biodiversity can enhance the soil capacity to treat wastewater. Jean-Louis Druilhe added his touch with humidity and temperature sensors.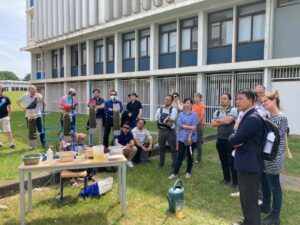 May 13, 2022 – 3rd day in Toulouse
Final day of the trip!
We focused on debriefing on the trip and also on decision-taking. We decided on which basic and advanced courses we would provide during the project and which partner was in charge. We also made progress on Water-oriented Living Labs (WoLLs) that are a central point of the project.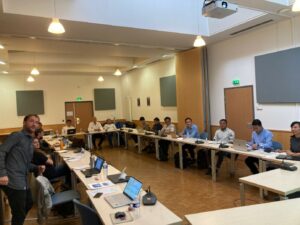 This trip has been a great opportunity to finally meet and go deeper into the project's objectives. We are now more than ready to develop innovative multilevel formation programs for the new water leading professionals in South East Asia!
INOWASIA is an Erasmus + Capacity Building Higher Education project that promotes a joint action of 11 organisations across 5 countries (Cambodia, Laos, Vietnam, France and Spain) to train a new generation of water professionals in Southeast Asia. More info
Follow us @INOWASIA (Facebook & LinkedIn) #INOWASIA (Twitter)