INOWASIA Project presented at the 14th International Congress (GRUTTEE)
A presentation of the INOWASIA project was given by Magali Gerino on March 4, 2022 at the GRUTTEE congress (University Research Group on Water Treatment and Purification Techniques / Groupement de Recherche Universitaire sur les Techniques de Traitement et d'Epuration des Eaux).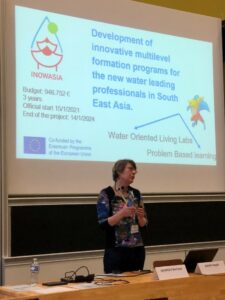 This congress was help from March 2 to 4 2022. It was the 14th edition, organized for the first time in Toulouse. One session was open by a conference "What could nature teach us for sustainable more adapted water treatment regarding future needs?"
This talk was followed by several talks about nature-based solutions. This conference was given in cooperation with the Bertrand Montfort from CEEBIOS, the French Center of biomimicry.