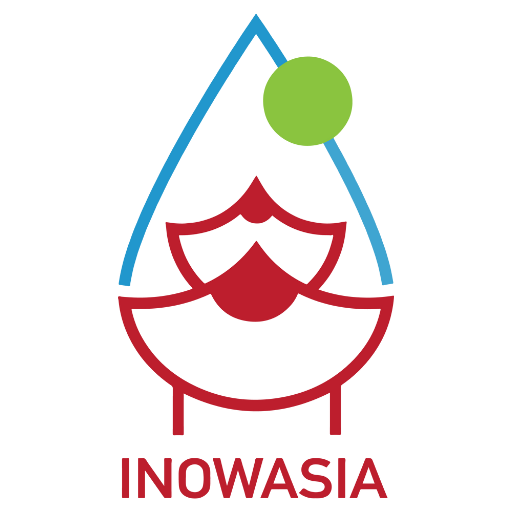 INOWASIA Grand Finale event in Cambodia on November 2023
The #INOWASIA Erasmus+ project will organize its finale event in Cambodia from 13 November 2023 to 21 November 2023.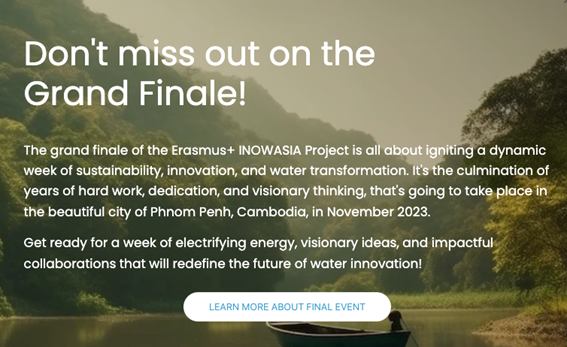 To register :
https://inowasia.com/final-event-cambodia/
The grand finale of the INOWASIA Project is all about igniting two dynamic events of sustainability, innovation, and water transformation.
After four years of dedicated work, the INOWASIA Consortium is proud to present two closing events and we would like to extend a warm invitation to all water professionals to join us in Cambodia. These two remarkable events are tailor-made for water professionals who are deeply committed to addressing critical Southeast Asian water challenges and shaping a sustainable future.
ITC, Pnom Penh, 13-14 November :
INOWASIA Academic Professional Committee (APC) Workshop:
Exclusively designed for our valuable Academic Professional Committee (APC) members, this workshop in Phnom Penh offers a unique opportunity to engage with experts and have a significant impact on the water sector. Dive into discussions about the effective implementation of Water-oriented Living Labs (WoLL) in Southeast Asia, innovative water solutions, and much more. Connect with like-minded water professionals, exchange valuable insights, and play a pivotal role in shaping the future of water management.
Siem Reap, 18-19 November :
Thought-provoking interactive SEAWAT Seminar in Siem Reap:
Taking place in Siem Reap, this symposium is open to all water professionals interested in innovative education, university-industry collaboration, and environmental sustainability. Immerse yourself in valuable insights from renowned speakers, actively participate in roundtable discussions, and expand your professional network. This will provide an excellent platform for networking and celebrating your contributions to the water sector.
AGENDA:
https://inowasia.com/final-event-cambodia/#:~:text=agenda%2C%0Aplease%20visit%3A-,DRAFT%20AGENDA,-To%20register%20for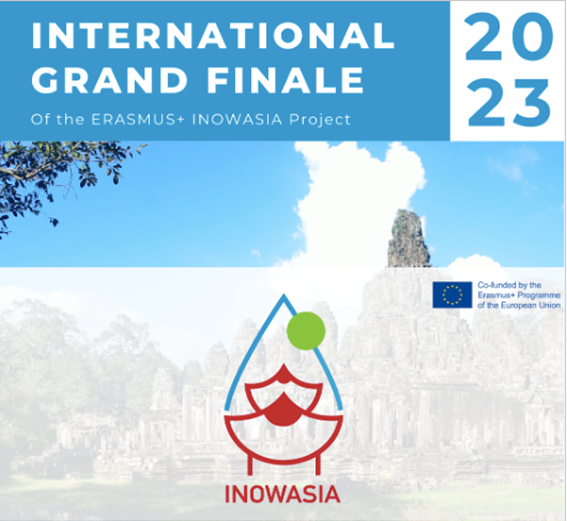 Sources: https://inowasia.com/apc/
INOWASIA is an Erasmus + Capacity Building Higher Education project that promotes a joint action of 11 organisations across 5 countries (Cambodia, Laos, Vietnam, France and Spain) to train a new generation of water professionals in Southeast Asia. More info
This project has been funded with support from the European Commission. This publication reflects the views only of the author, and the Commission cannot be held responsible for any use which may be made of the information contained therein.
Project Number: 619225-EPP-1-2020-1-ES-EPPKA2-CBHE-JP
All Rights Reserved by INOWASIA 2021